---
AUTHENTIC LUSH EP & FM SYNTH SOUNDS
"KING OF FM IS POSSIBLY THE BEST FREE iOS MUSIC APP, EVER!"
– The GarageBand Guide
The long-awaited sequel to FM Player is here…
They say the DX7 is used on more hit songs than any other Synth. There's a catch – almost all those records were in the 1980s.
Inspired by DX7 folklore, I sampled a legendary-sounding DX7II from a famous studio. Then I released an app called FM Player, packed with those samples. That was nearly six years ago, and the experience has been jaw-dropping.
The response from musicians? Stupidly incredible.
It blew me away when Herbie Hancock played it in the Studio. It left me speechless when Grammy-winning producers started using it in their sessions—producers for Drake, Jay-Z, Kendrick Lamar, and more are rocking the app. Songwriters for Alicia Keys and studio musicians for John Legend are all over it too.
KING OF FM is the follow-up to FM Player. For the first time ever, you can have these sounds on the iPhone and Silicon Macs. We're not just talking about the sound of the past here. These sounds are being used on hit records right now. This app is the sound of today.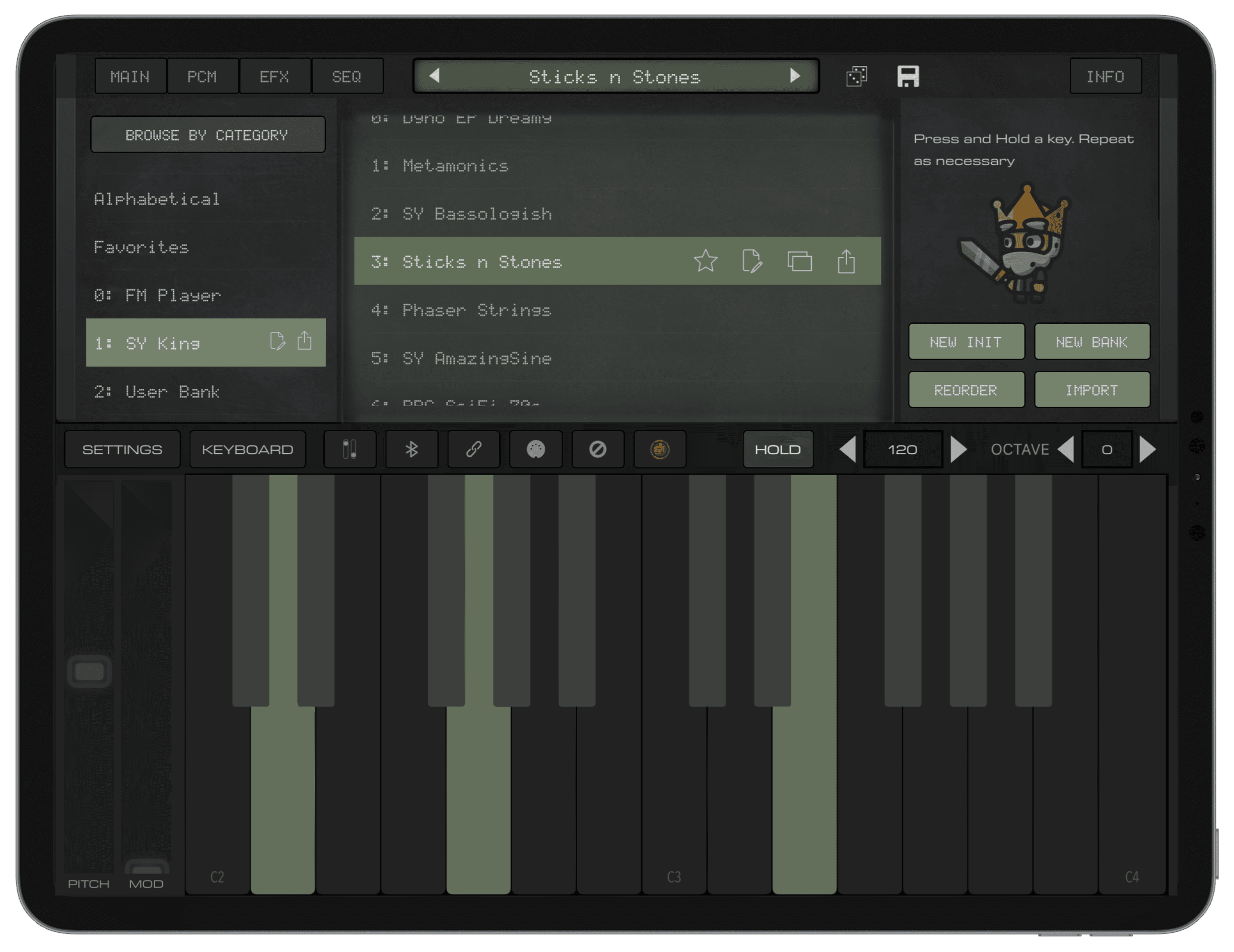 AudioKit
KING OF FM
Created by Analog Matthew


COMPLETELY FREE FOREVER!
For iPhone, iPad, iOS AUv3, and Silicon Mac (Standalone)
This app contains my exclusive "Holy Grail" DX7 samples—used by Herbie Hancock and by producers for Sting, Jay-Z, Alicia Keys, and more!
A user's reaction:
"This app filled my eyes with tears when I first played through the sounds. It brought back memories of my youth, I was transported to a time when anything and everything was possible."
Who knew a humble iOS musical instrument could bring so much joy to people?
Classic presets, faithfully recorded from the original retro 80s Synthesizers: DX7, DX7II, TX81z, and SY77 sounds
Standalone iPhone/iPad app & iOS AUv3 Plugin
Use with a MIDI Keyboard or iOS DAW
Over 300+ Presets and over 10,000+ individual samples to inspire you
FX: Phaser, Chorus, Reverb, Ping-pong delay, Crush, Stereo Fatten, and more!
Over 2+ gigabytes of sounds compressed to under 400 mb
Audio recording: record your sounds then export wav files! No other apps needed
Use as an iOS Plug-in in hosts like GarageBand, AUM, Cubasis, Beatmaker 3, and more
Run on your silicon Mac (Standalone version)
Includes full lifetime license for both iPhone, iPad, and Silicon Mac
"Sounds authentically like the original hardware"
– Electronic Musician Magazine

Why free?
I wanted to put something good out in the world
My hope is that these sounds will inspire fellow musicians.
It used to be the coolest thing TO ME knowing Herbie Hancock used one of my apps
Now, I'M EVEN MORE GRATEFUL to GIVE these same sounds TO everyone, totally free.
BUT WAIT, THERE'S MORE…
The KING OF FM SYNTHESIZERS:
THE MIGHTY SY77!
The Yamaha SY77 is a legendary synthesizer from the golden age of synths, first unleashed upon the world in 1989. This little-known synthesizer kicked some serious ass in the world of FM synthesis, earning its title as the "King of FM."
Legendary musicians like Brian Eno, Vangelis, Tangerine Dream, Jean-Michel Jarre, and Vince Clarke couldn't resist the allure of the SY series. They hopped on these synths and cranked out some of the most groundbreaking tunes of their time. Lost to history, it's no exaggeration to say that the SY77 played a vital role in hundreds of artists' musical success.
Listen, the Yamaha SY series had a hell of a run…
So, when I kicked off the King of FM project in 2020, I initially got my hands on an SY99. But it just didn't have that raw, unfiltered magic I was looking for—it was too damn clean. I couldn't bring myself to create an app if the tone wasn't right, so I shelved the project for a bit.
Then, I stumbled upon an SY77, and let me tell you, it had the sound I'd been searching for. I spent the next two years sampling the hell out of it, racking up probably 10+ gigabytes of SY77 samples on my hard drive (You might say I have a sampling problem).
But I didn't stop there. I painstakingly sifted through the samples and cherry-picked the top 100+ or so multi-sample sets—those with the most captivating character. In the end, this app boasts 2 gigs of SY77 samples, compressed into a sleek package weighing in at under 400 MB.
Trust me, it's the real deal.
And now, you can have a DX7 & SY77 in the palm of your hand. Free forever
– AnalogMatthew
Created by Analog Matthew
Be heard! Share the music you make with this app…
Post on social media and tag #KINGFM
Follow me for the wild world of music app-making.
We'll be unraveling the threads of our very existence through the pulse-pounding, soul-shaking power of music.
Mostly, I'm just trying to make music and apps 😁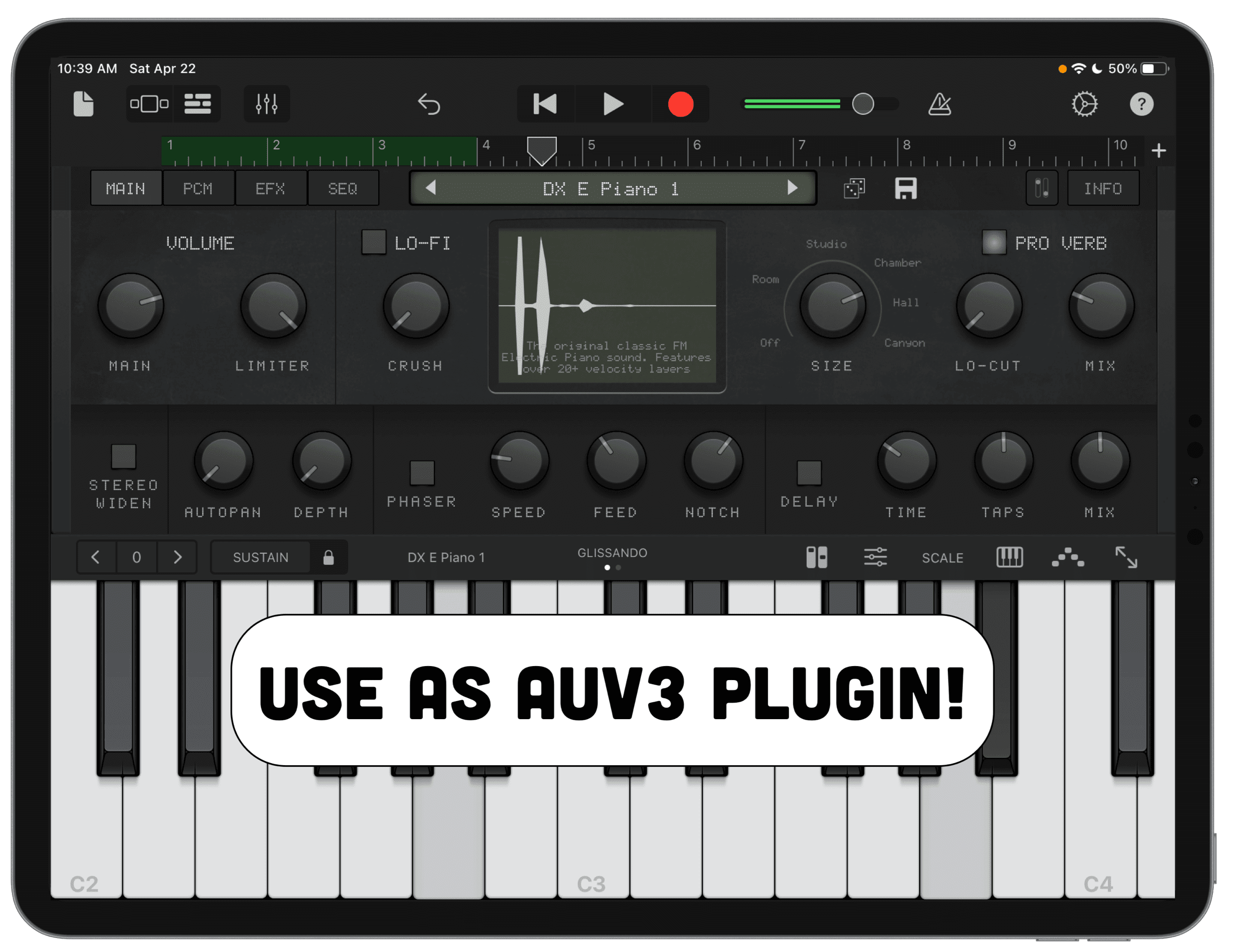 Use KING OF FM as an AUv3 Plug-in on your iPad/iPhone. Shown here in GarageBand (A free iOS DAW).
LEGAL NOTICES
AudioKit is an open-source project intended to bring joy and music to people and enlighten people on how to build custom instruments and iOS apps.
** This app has no official endorsement with any artist or producer named in the description (including Herbie Hancock, Jay-Z, Drake, etc). We are humbled they have used our apps. They have received no payment or other compensation for using our apps. **
This is an open-source project intended to bring joy and music to people, and enlighten people on how to build custom instruments and iOS apps. All product names and images, trademarks and artists names are the property of their respective owners, which are in no way associated or affiliated with the creators of this app, including AudioKit, AudioKit Pro, LLC, and the other contributors. Product names and images are used solely for the purpose of identifying the specific products related to synthesizers, sampling, sound design, and music making. Use of these names and images does not imply any cooperation or endorsement. Yamaha, DX7, DX7II, SY77, and TX81z are trademarks property of Yamaha Corporation. We appreciate their amazing work in creating such classic and inspiring instruments.